For students ages 4 to 18, it's the hardest fun you'll ever have.
For mentors, coaches, & volunteers, it's the most rewarding adventure
you'll ever undertake.
For sponsors, it's the most enlightened investment you could ever make.




FIRST is...
Based in Manchester, NH, FIRST is a 501(c)3 not-for-profit organization devoted to helping young people discover and develop a passion for science, engineering, technology, and math. Founded over 30 years ago by inventor Dean Kamen, FIRST continues to grow and encourage more students to enter the STEM workforce pipeline. The annual programs culminate at one of the two the FIRST Championship events - a celebration where teams win recognition, gain self-confidence, develop people and life-skills, make new friends, and perhaps discover an unforeseen career path. Read more about the vision, mission and philosophies of FIRST here.
FIRST North Carolina is...
FIRST North Carolina is a 501(c)3 not-for-profit organization based in North Carolina and the Program Delivery Organization for the FIRST LEGO League Discover, FIRST LEGO League Explore, and the FIRST Robotics Competition programs in North Carolina.
OUR MISSION
The mission of FIRST North Carolina is to inspire the next generation of engineers, computer scientists and STEM leaders. Our goal is to strengthen the school to STEM career connection by implementing the FIRST progression of programs in every school and school district, PreK through grade 12.
FIRST North Carolina wants students to thrive in a high tech world with an unbridled passion for skilled trades, engineering, computer science, and corporate problem-solving. FIRST's hands-on approach enables students to "test drive" these areas to see where their interests and aptitudes fit.
OUR VISION
"To transform our culture by creating a world where science and technology are celebrated and where young people dream of becoming science and technology leaders." ~Dean Kamen, Founder


OUR PURPOSE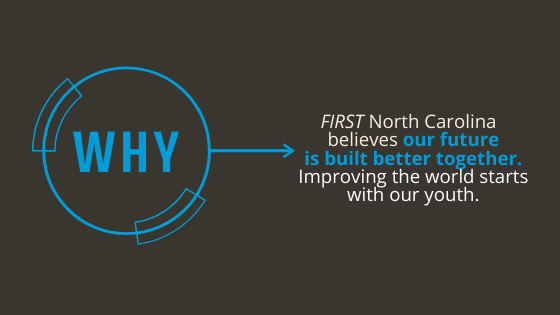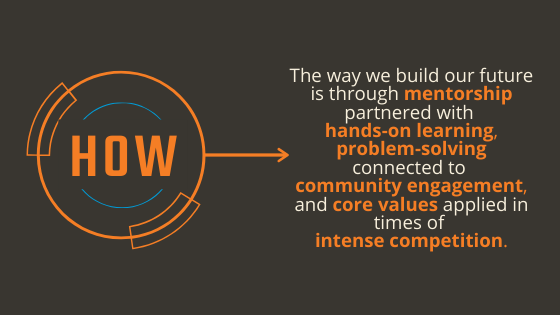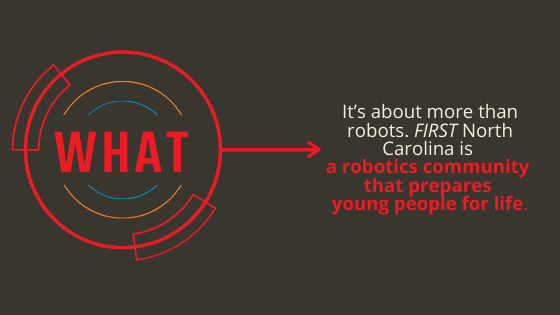 CREATE

.

ENGINEER

.

INSPIRE

.
Explore the FIRST progression of PreK-12 programs